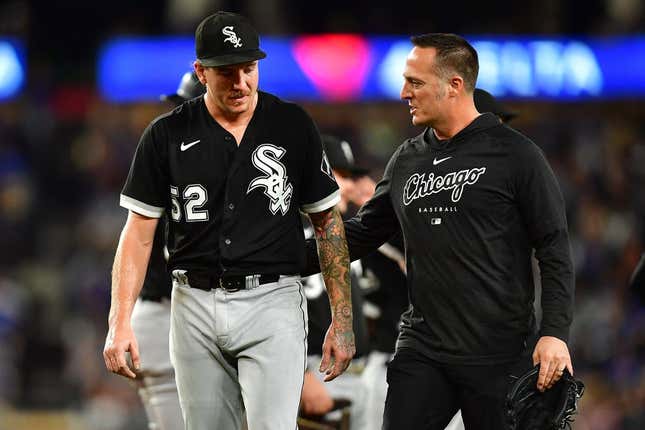 Chicago White Sox right-hander Mike Clevinger said Thursday that he sustained no structural damage in his throwing arm or elbow, one day after leaving a start against the Los Angeles Dodgers due to a biceps injury
Retraction: The Oakland A's suck less than previously reported | Worst of the Week Countdown
Clevinger underwent further evaluation and testing on Thursday and was pleased with the diagnosis.
"I guess the best news possible," Clevinger told reporters prior to Chicago's Thursday game at Los Angeles. "There's no structural damage. Shoulder, elbow looks good. Just some fluid in the bicep. It's day by day right now."
Clevinger was highly concerned after Wednesday's game. He was injured after throwing a pitch during the fifth inning, and the White Sox quickly pulled him after trainers reached the mound
"Felt my bicep grab, it grabbed pretty hard, kind of scared me," Clevinger said after Chicago's 8-4 win on Wednesday.
White Sox manager Pedro Grifol said Clevinger wouldn't immediately be placed on the injured list
"We'll wait on the IL until we have to make that decision," Grifol said before the Thursday game. "Right now we don't have to make it. It's the best news we could have gotten."
Part of Clevinger's concern is tied to the fact he has undergone two Tommy John surgeries in his career (2012, 2020). He said he feels he is just regaining his form from before the second elbow reconstruction operation.
Clevinger, 32, is 3-4 with a 3.88 ERA in 12 starts during his first season with Chicago. He pitched 4 2/3 scoreless innings before exiting the Wednesday game.
–Field Level Media