Loading…
I've been many times by Boston Beacon Hill condo sellers; should I update my Beacon Hill condo for sale?
The infographic below is some sound tips for Boston Beacon Hill condo sellers.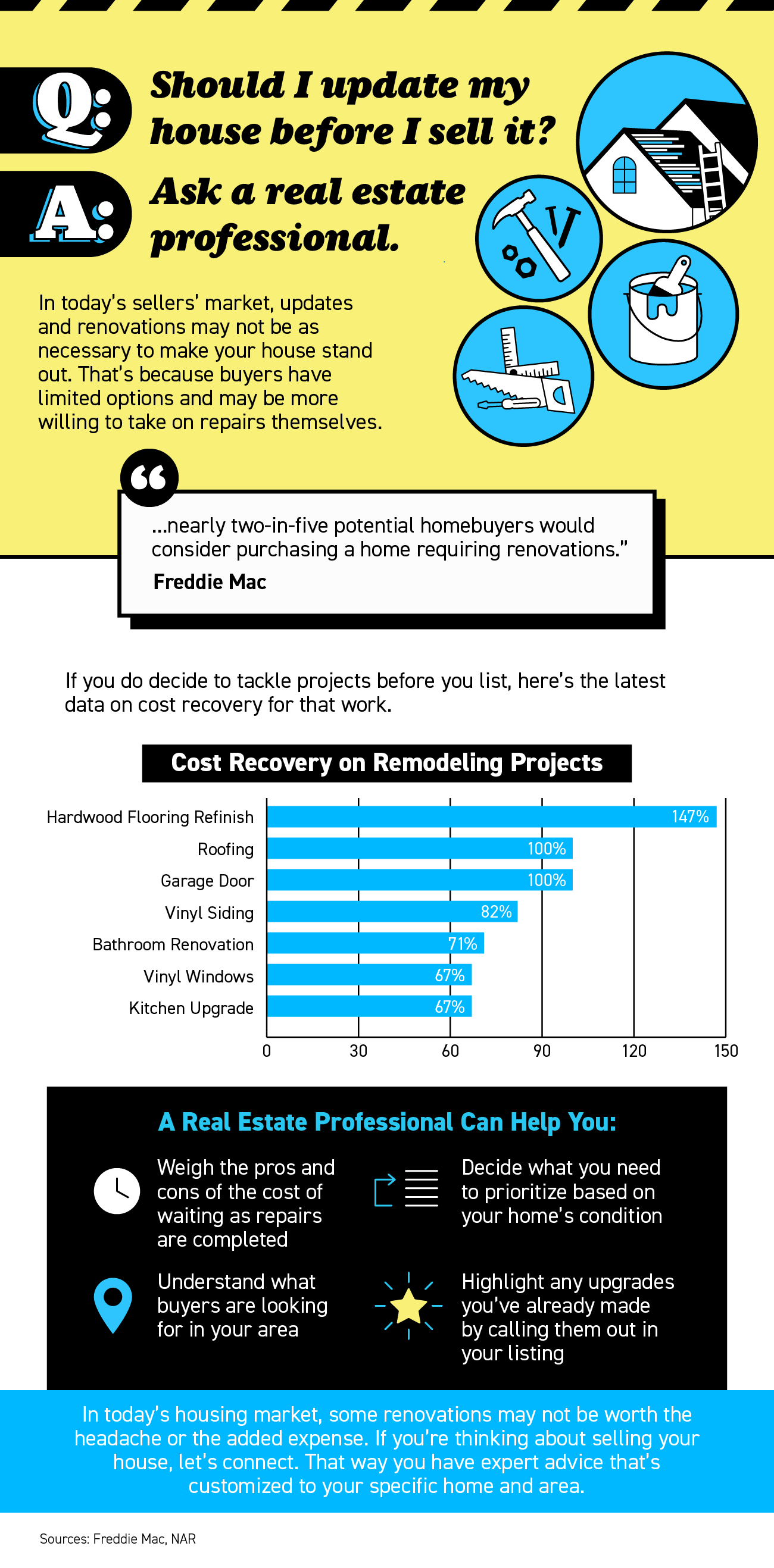 Loading…
2020 Real Estate Market Update. You're getting ready to sell your home and you wonder, should I move out and vacate the property for the real estate market, or should I stay and not worry about it? Or let's say you're getting ready to sell your investment property with tenant inside. Should you wait until they leave to put it on the real estate market, or is it better to sell with a tenant inside?
A lot of articles we write might have a 10% – 15% impact on selling a home, such as picking the right time of year to buy or sell. Even a 10% difference in being able to sell a home is huge. But occupancy, who is or is not in the home, can have up to a 20% to 30% impact!
Vacant Boston Condo Sell Best
Seller Occupied Homes Sell Second Best
Tenant Occupied Homes Hardly Sell
Relative Failure Rates to Sell
Vacant Home Relative Failure Rate = 22%
Seller Occupied Relative Failure Rate = 27%
Tenant Occupied Failure Rate = 45%
Selling Investment Property
It is clear from this report that if you have a detached home, condo, or townhome – anything MLS deems residential – then your best bet is to wait until the tenant is out before selling. Only sell while vacant. This opens up your property to the entire (massive) home buyer pool, not the slim investor pool. The success vs. fail ratios are clear as day. Now, if you have a multifamily apartment building for sale, that is completely different. Those properties are typically only purchased by an investor pool and that investor pool wants those buildings full of tenants.
Selling Your Own Home
There is an advantage to selling a home vacant, but it is a few percentage points. It is still okay to sell owner-occupied. One thing we often recommend our clients do – if possible – is vacant the first long weekend the home is on the real estate market. Often we are able to sell a home in the first weekend, which means it essential sold with all the advantages of being vacant. Even if the home doesn't sell in the first weekend, it is still best for the seller as that is the main rush of buyers and afterward it will be easier to schedule one appointment at a time.
Consider these tips before you put your Beacon Hill condo on the market for sale:
Price it right
Price it right. Selling a Beacon Hill home is different than selling a typical 3 bedroom, 2 bath home in Boston. Sellers often get stuck on naming their price because there is no clear formula for doing so. Comparable homes are few and far in between because Beacon Hill luxury homes tend to stand out from all the others. The stakes are high — price it too high, and the home will languish on the market. Price it too low and you risk losing tens of thousands in equity. The solution is to find a Beacon Hill real estate agent who has experience selling luxury homes in the Downtown Boston metro area and ask for comparative market analysis. Read through this report and don't forget to factor in the agent's commission.
Make it mobile
Make it mobile. According to the National Association of Realtors, 74% of home shoppers use a mobile device to search for homes, which means that not only should your Beacon Hill condominium be listed on all the major real estate websites (we do that and then pay those sites extra for additional exposure), but that its online presence should be mobile optimized. Check out our mobile-friendly media supplemental here.
Professional Staging
Professional Staging. Everyone knows that luxury homes should be professionally staged, but the term no longer has to mean "furnish every room". Luxury (and main-market) home buyers this year are looking for homes that are move-in ready. If your home is vacant, a professional stagger may only need to stage the key rooms. If your home is occupied, we pay for an interior designer to do a walkthrough consultation with you, working with what you have, so the home looks its best.
Get a bird's eye view.
Get a bird's eye view. Boston Beacon Hill is surrounded by breathtaking scenery. Professional aerial images of your luxury condo are a must, whether the home is architecturally unique or is in a beautiful setting like the Beacon Hill or the city view of Boston Midtown high rise condos. In 2018, there's no need for luxury home sellers limit themselves to still photography, either — we have seen drones capture some amazing video footage that even longtime owners of the home can't believe. There's also impressive 3D tours and (true) video walkthroughs available to our clients. Our team offers this service when listing luxury homes and we rely on it to capture the uniqueness of homes and properties that photos simply can't do justice.
Go 3D
Go 3D. Boston Luxury home buyers are the demographic least likely to have the time to tour a home in person. In addition, many of them are shopping for a luxury Boston home as second or third residence, so there is no urgency to their purchase. However, there is urgency once they've fallen in love with a home, and falling in love is possible with a 3D home tour! Using this technology, buyers can "walk through" the home without leaving their computer monitor, and no other special equipment is needed. Again, our team believes this technology is so important that we offer it on all our luxury home listings.
Find an agent with luxury home experience
Find an agent with luxury home experience.  Beacon Hill Real estate agents often specialize working on the buyers' or sellers' side. Be sure to use a seller's agent experienced in selling luxury homes. They must be familiar with the market as well as your homes non-standard features.
Find an agent who works the area
Find an agent who works the area. Yes, choosing the right real estate agent to list your Beacon Hill property is so important, we think it's worth two separate tips. This time, it's about that all-important real estate term: Location. Whether your a buyers who are choosing a luxury home and not just shopping for the house — they're looking for the right neighborhood. Can your listing agent name the closest schools, the local crime statistics and the distance to the nearest shopping center? We have extensive experience throughout the greater metro area. Often we sell more homes in a given location than the "local agent".
Use buzz
Use buzz. There are many, many ways to market a home. Marketing pros use the term "buzz" to describe the thing that happens when everyone is looking at and talking about your home. It's a tricky thing to generate and requires displaying your Boston luxury home in as many venues as possible. In addition to listing it on the top real estate sites with excellent media options, your listing agent should also be paying to have the home featured to appear at the top of search results. Great luxury home real estate agents will offer all these services and more to ensure you get top dollar for your home.
Global Reach
Global Reach. Unless the real estate agent you're talking with tells you about their global marketing program – they don't have one. The local MLS does not go out to all the developed countries in the world. Almost without exception, you will only be broadcasting nationwide. We've partnered with a global marketing program that puts our listings into every developed country online and translates the description into the local language and the price into the local currency! We have the best global marketing program available.
Loading…
________________________________________________________________
Beacon Hill Condo Sales Data Updated in Real-Time 
Click the link below for Beacon Hill condo sales charts:
Beacon Hill condo sales data based on real-time – 30-day tracking
_______________________________________________________________________________________________________________________
Back to homepage: Boston condos for sale
Ford Realty – Boston Real Estate Google Reviews 2019
Boston condos for sale for 2020
Charlestown condos for sale under $1M for 2020
Boston downtown condos for sale for 2020
Boston High rise condos for sale
Boston Midtown condos for sale 2020
Boston North End condos for sale 2020
Contact me to find out more about this property or to set up an appointment to see it.
Beacon Hill apartments for rent $10K and under