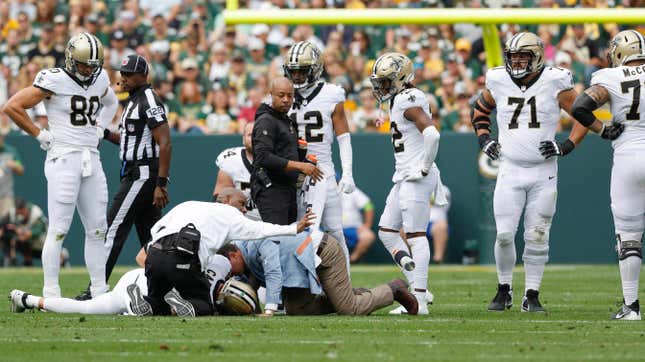 The New Orleans Saints have been one of the surprise teams in the early stages of this 2023 campaign. They were well on their way to a 3-0 start to the season against the Green Bay Packers, holding a 17-point lead heading into the fourth quarter Sunday afternoon. If you turned away thinking it was over, you should know better. Then Derek Carr got sacked in the third quarter, left the game with a shoulder injury, and did not return. From there, with a 17-0 lead, New Orleans proceeded to close up shop and allow Green Bay to reel off 18 unanswered points for the come-from-behind victory.

New Orleans had a chance to regain the lead but missed a 46-yard field goal with just over a minute left in regulation. This was the Packers' first comeback win from such a deficit since Week 1 of the 2018 season. The Saints were in full control of this game, then Carr went down, and all hope vanished.
Jameis Winston replaced Carr and played well. Winston was 10 of 16 passing for 101 yards. Not great, but near the same as Carr, who was 13 of 18 for 103, and a touchdown toss. The biggest surprise was how the Saints' defense shrank in the fourth quarter. In the first two weeks of the season, teams hadn't put up more than 17 points against New Orleans. Sunday against Green Bay, the Packers dropped 18 consecutive points on them in the fourth quarter.
It wasn't a high-scoring thriller, but this was a collapse of epic proportions from a defense that's been good thus far. You hold a team to zero points and barely allow them anything for three quarters, then suddenly can't stop a cold the final 15 minutes. For those first three quarters, the
The Saints looked poised to stay among the unbeaten in the NFL. Then, in an instant, all the momentum swung in the favor of the Packers, and the home-field advantage came into play.
These Saints are about defense, no matter who leads the offense. The NFC South isn't seen as one of the tougher divisions, but if New Orleans is going to fall asleep at the wheel like that defensively, it'll be another long season filled with heartbreaking losses.