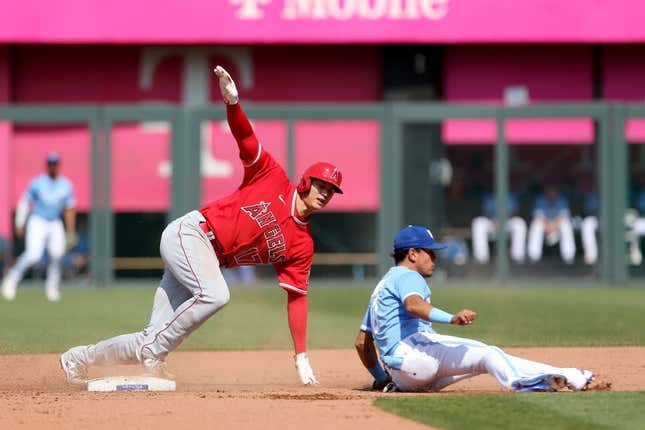 Samad Taylor's first major league hit lifted the Kansas City Royals to a 10-9 walk-off, come-from-behind win over the visiting Los Angeles Angels on Saturday afternoon
Retraction: The Oakland A's suck less than previously reported | Worst of the Week Countdown
Making his major league debut, Taylor delivered a one-out single to deep center field as the Royals scored twice in the ninth, overcoming a six-run deficit
Brandon Drury homered twice and Shohei Ohtani clubbed his major league-leading 23rd homer as the Angels built an 8-2 lead in the seventh
Bobby Witt Jr. led Kansas City's comeback with two-run hits in each of the seventh and eighth innings as the Royals plated three in each frame to tie the game
Los Angeles re-took the lead on Mike Trout's RBI single in the ninth before Kansas City answered with three ninth-inning singles and a pair of runs against Chris Devenski (3-1).
Aroldis Chapman (2-2) earned the win, striking out three in the ninth as the Royals snapped a 10-game losing streak
Drury opened the scoring in the second, lining the inning's first pitch into the left-field bullpen. One out later, Taylor Ward lifted a fly ball over the left-field wall for his ninth home run and a 2-0 Angels' lead
MJ Melendez tied the game with a two-run shot to right-center in the fourth, his sixth of the season for KC.
The Angels responded in the fifth with three consecutive singles, loading the bases before Mickey Moniak and Ohtani followed with RBI grounders for a 4-2 advantage
Drury collected his fourth career multi-homer game with a two-run shot to left in the sixth, and Ohtani's 437-foot solo blast to left-center in the seventh gave the Angels an 8-2 lead
Ohtani has a season-best 14-game hitting streak, including eight home runs and 18 RBIs.
Angels starter Griffin Canning threw six innings, allowing two runs on three hits and two walks, striking out five
Royals starter Mike Mayers allowed six runs on seven hits and a walk over five-plus innings
–Field Level Media