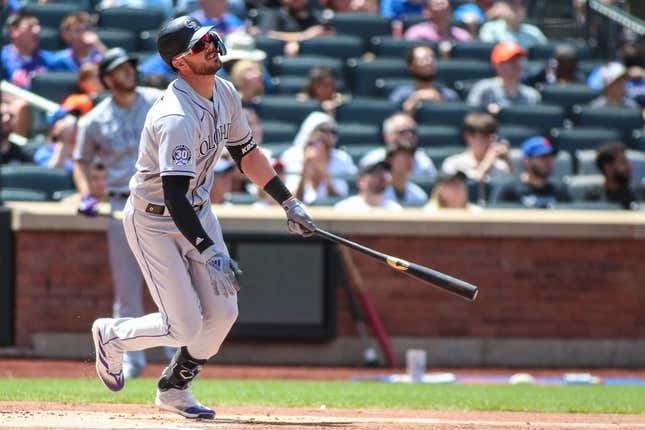 Kris Bryant's latest comeback attempt picked up speed Thursday when he joined his Colorado Rockies teammates in Atlanta and took batting practice before the contest against the Braves
Retraction: The Oakland A's suck less than previously reported | Worst of the Week Countdown
Bryant last played on May 30 due to a foot injury and said there is no timetable set for his return. But he was feeling encouraged Thursday.
"Obviously, the running is the last hurdle, but we'll do that when it comes," Bryant said. "But today is a good day for me."
The 2016 National League MVP with the Chicago Cubs is in his second season with the Rockies and hasn't come close to meeting the expectations that come with a seven-year, $182 million deal
Bryant played in just 42 games last season as he dealt with back and left foot injuries. The latter setback included a rough bout with plantar fasciitis that prevented him from playing after July 31.
This season, the left foot is again the reason he is sidelined and he was hurt when he fouled a ball off the foot. He has played in 50 games but his production has been subpar with a .263 average, five home runs and 17 RBIs.
"I'm in an OK spot," Bryant said. "But there are other things that go into injuries that you can't do much about. All I know is I've got a plan in place, and I'll do what I can to get back in there."
The four-time All-Star said he is trying out new shoes and cleats in hopes of alleviating the foot troubles.
Meanwhile, he hears the critics ranting about him not living up to his rich contract, which runs through the 2028 season.
"It is what it is," Bryant said. "That's not something I pay too much attention to. In this game, when you do things in the past, and have a pedigree and you have the accolades that produce contracts and bigger money, well, that's the situation that I'm in."
–Field Level Media