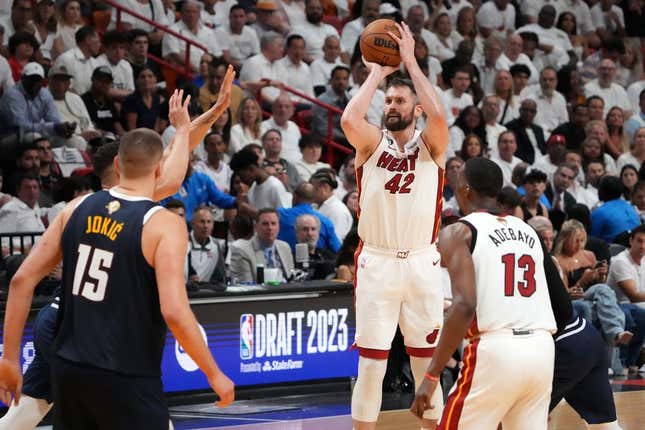 Miami Heat forward Kevin Love rejoined the team in Denver on Sunday, one day after his wife, model Kate Bock, gave birth
Aaron Rodgers should go full Joe Namath | Comedian Bert Kreischer
Love missed the Heat's flight to the Mile High City and flew on his own Sunday to watch film and handle media responsibilities, one day before Monday's Game 5 of the NBA Finals
"Everybody is happy and healthy," Love said during a press conference. "… Was able to make it in for our film session.
"Got a little bit of sleep, so today will be good to get up and down, get acclimated here and get some treatments, get some rest and be ready to roll."
Love didn't say if the child was a boy or a girl.
The Heat trail the Denver Nuggets 3-1 in the best-of-seven series. Only one team has ever recovered from such a deficit to win the Finals — the Cleveland Cavaliers, who beat the Golden State Warriors in 2016
Interestingly, Love was a key member of that Cleveland squad.
"Naturally when your back is up against the wall you start to look for answers, solutions," said Love, a five-time All-Star. "But we're a team that as you know has been super resilient. We understand that it's every possession, it's one game.
"I know that's something that is cliche and everybody says but again, we feel like if we come out, have a good start tomorrow, play extremely hard and give ourselves a chance and take it back to Miami, that is right where we want to be."
Love, 34, joined the Heat in February after reaching a buyout with Cleveland. He averaged 7.7 points and 5.7 rebounds in 21 games (17 starts) for Miami in the regular season, and he is contributing 7.1 points and 5.7 boards in 19 postseason games (17 starts)
–Field Level Media