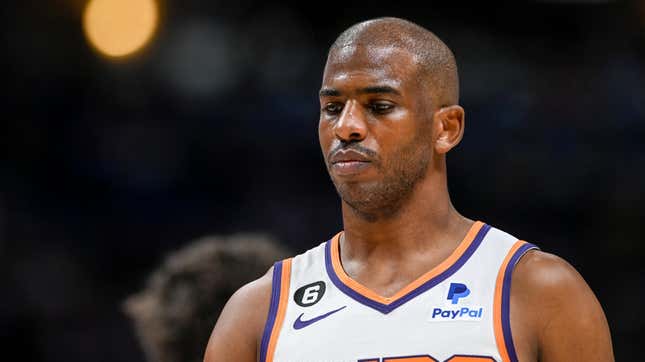 The dark postseason cloud that's followed Chris Paul's Hall of Fame career is moving on from Phoenix after the 12-time All-Star was informed by Suns executives that he will be waived this offseason, according to Bleacher Report's Chris Haynes.
Is Steve Nash the greatest Phoenix Sun of all time? | Agree to Disagree
The Suns' decision to waive Paul comes on the heels of the 38-year-old point guard's least productive seasons as a professional. In 59 regular season games, Paul registered career lows in points, endured one of the worst shooting seasons of his career, was slowed by multiple injuries, and lacked the explosion or quick first step to finish in the paint.
When the Suns acquired Kevin Durant at the trade deadline, the team became a clear title favorite. However, injuries to Durant and Paul ruined any chance for the Suns to develop any chemistry on the floor. Paul's groin injury in Game 2 against Denver in the Conference Semifinals was the last time he put on a Suns uniform. In Game 6, Phoenix was eliminated from the postseason by the Denver Nuggets on their own floor, and Paul's longtime coach Monty Williams was fired following their playoff expulsion, prompting speculation that Paul would likely be playing elsewhere next season. The signs became a reality on Wednesday afternoon.
Paul was due to earn $30.8 million next season, but was only owed $15.8 million if waived by the June 28 deadline. Instead of trading Paul, it appears the Suns decided to allow Paul the decision to choose his destination for the 2023-24 season on the open market as a free agent.
The Los Angeles Lakers are currently the betting favorite to land Paul, who is close friends with LeBron James and was involved in a prior trade to the Lakers that was vetoed by late Commissioner David Stern before the 2011 NBA season.
Follow DJ Dunson on Twitter: @cerebralsportex