Loading…
As we enter the Fall Boston condo selling season and as mortgage rates surge, August's bidding-war rate fell to its lowest level since April 2020, according to a new Redfin report.
In August, 44.6% of offers written by Redfin agents faced competition, the lowest since the start of the pandemic and down 63.5% from last year. August was the seventh straight month of declines, as mortgage rates topped 6%, pushing some buyers out of the market.
To compare, the report found a typical bidding war in August had 3.2 offers compared to 3.5 offers in July and 5 offers in 2021.
In Boston, 54% of Redfin offers faced competition in August, down from 55.2% in July and 68.7% a year prior. And in Worcester, 51.2% of offers faced competition last month, down from July's 54.3% and last year's 65.3%.
______________________________________________________________________________________________________________________________________
Bidding wars eased in September dropping to a 2021 low
There's good news for prospective homebuyers — for the first time during this year's most competitive real estate market in history, the bidding-war rate has fallen to a 2021 low.
According to a recent Redfin report, 58.9% of September home offers faced competition, the lowest level in nine months, coming on the heels of the market showing signs of a seasonal slowdown and as mortgage rates began to rise. September was the fifth consecutive month of declines. In August 60.8% faced a bidding war, down from April's 74.3% peak.
Raleigh had the highest bidding war rate at 73.9%. Boston came in at No. 2 where the share of Redfin offers facing bidding wars last month was 71.7% compared to 67.2% in August and 57.2% in September 2020. That was followed by Indianapolis at 71.4%, Sacramento at 70.5% and San Diego at 70.3%. 
In a year where local agents pulled out all the stops to help their clients win bidding wars, housing competition has started to ease, yet homes are still selling faster than usual for this time of year.    
"It's typical to see a decline in competition as families head back to school and the weather cools down," Taylor Marr, Redfin deputy chief economist Taylor Marr said in a press release. "Buyers also aren't having to offer as much above the asking price as they were in the spring when competition in the housing market was peaking. As mortgage rates continue to rise, we can expect bidding wars to keep slowing."
Housing inventory continued to remain low last month, the report found, as new listings fell 9% from 2020 and homes sold in 18 days, more than a week faster than they did a year prior. 
Loading…
Click Here to view: Google Ford Realty Inc Reviews
Click to View Google Reviews
________________________________________________________________________________________________________________________________________
Loading…
Homebuyers can finally breathe a little easier.
Following months of sky-high prices paired with manic competition — driven by limited supply — the frenetic housing market is starting to cool down. Somewhat.
Last month, multiple bids accompanied 60% of offers written by Redfin agents. This is a 7% drop from June and a nearly 15% decline from the pandemic's peak of 74%, in April 2021, according to Redfin.com.
"Competition has started to slow in the last three weeks. We're now seeing five to eight offers on homes instead of 25, and they're coming in $5,000 to $10,000 above the listing price instead of $50,000 to $60,000," Scott Mercer, a Redfin real estate agent in Sacramento, CA, said in a press release. "Buyers are pushing back."
In Boston, 64% of Redfin offerings faced bidding wars in July, a significant decline of 9% from June — but still slightly higher than one year ago.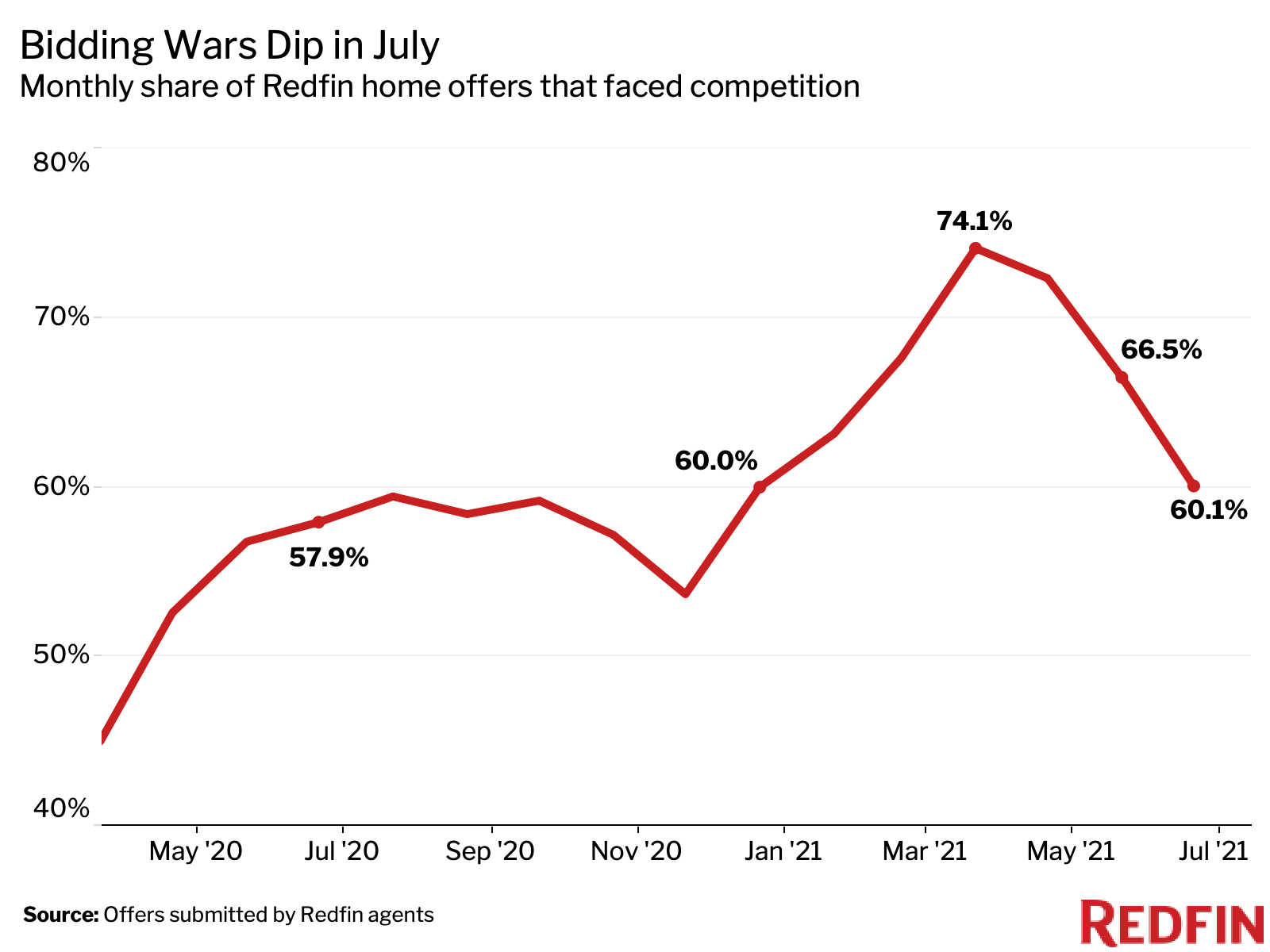 Loading…
________________________________________________________________
Loading…
I have noticed a bidding war trend within the local housing market. Not for every home. Just for those units that are new or recently renovated.
Most realtors see other agents being vague and non-committal on how to handle multiple offers, so they think that's how to do it.
But hiding out and refusing to have a game plan helps no one – especially the seller – yet it never occurs to agents to do it differently. Sales is a skill, and transparency is the key:
Contact me to find to set up an appointment to start your Boston condo-buying process.
Back to homepage Boston condos
Click Here: Back to Boston Real Estate Home Search
Back to homepage: Boston condos for sale
Ford Realty – Boston Real Estate Google Reviews 2020 and 2021
For more information please contact one of our on-call agents at 617-595-3712.
Loading…