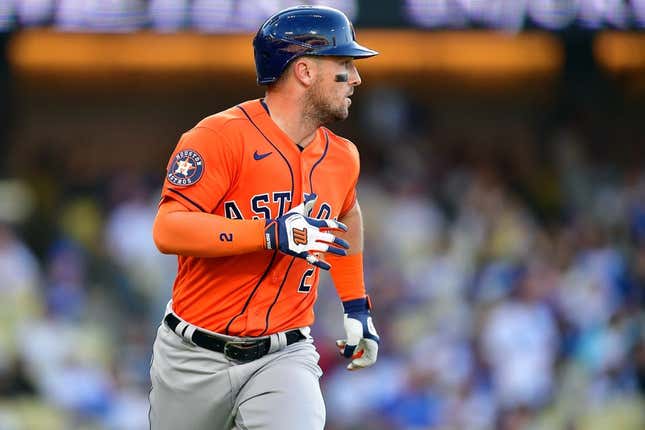 Jeremy Pena and Jose Abreu each hit two-run homers, Alex Bregman had a go-ahead RBI single in the 11th inning and the visiting Houston Astros salvaged the finale of a three-game series with a 6-5 victory over the Los Angeles Dodgers on Sunday night
The Legacy of Jim Thorpe | Joe Pantoliano's Ultimate Sports Fantasy
After the Astros blew a 4-1 lead in the eighth inning, Corey Julks had an RBI single in the 10th inning and Bregman was the difference in the 11th as Houston won for just the third time in its last 10 games
Astros rookie right-hander Hunter Brown gave up one run on three hits over six innings, Ryan Pressley (2-2) earned the win and Seth Martinez collected his first career save
Freddie Freeman had a pair of doubles for the Dodgers to reach 2,000 hits for his career as Los Angeles' four-game winning streak came to an end
Mookie Betts and Will Smith hit home runs for Los Angeles. Betts hit his second leadoff homer of the series, his eighth of the season and the 44th of his career.
Dodgers starter Tony Gonsolin gave up four runs on five hits over five innings. An All-Star last season, Gonsolin has given up 11 runs over his past two outings. Los Angeles right-hander Yency Almonte (3-1) absorbed the loss
The series was a rematch of the 2017 World Series that the Astros won in seven games. Los Angeles is 8-6 in regular-season games against Houston since the start of 2018
Houston moved on top 2-1 in the second inning on Pena's homer, his ninth of the season. Abreu's home run in the fourth inning, his fifth, gave the Astros a 4-1 advantage
Freeman's second double of the day for his milestone hit came off Astros right-hander Rafael Montero and pulled the Dodgers within 4-2 in the eighth. Smith followed with his 12th home run of the year to tie it. Freeman is the sixth active player with 2,000 hits
Houston took a 5-4 lead in the 10th on Julks' single, while Betts tied it again with a sacrifice fly in the bottom of the inning.
The Astros played without second baseman Jose Altuve (heel) on Sunday, while the Dodgers were without Max Muncy (hamstring) and Chris Taylor (knee) for the series
–Field Level Media