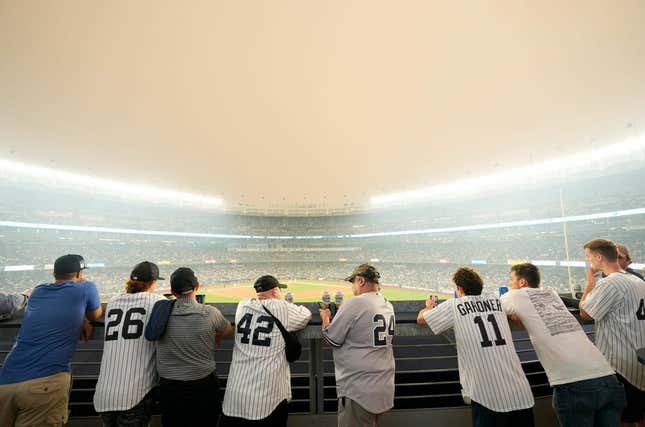 The New York Yankees and Philadelphia Phillies each postponed home games Wednesday due to heavy smoke and low visibility across the Northeast from wildfires in Canada
Can the Florida Panthers make a comeback? | Agree to Disagree
The Yankees will attempt to play a traditional doubleheader against the Chicago White Sox at home on Thursday. The Phillies will move their game against the Detroit Tigers to Thursday, when both clubs were scheduled to have an off day
The Yankees and White Sox played Tuesday night through a haze that was visible through the stadium lights. Conditions deteriorated Wednesday with heavy smoke creating an orange glow at times around Yankee Stadium
"These postponements were determined following conversations throughout the day with medical and weather experts and all of the impacted clubs regarding clearly hazardous air quality conditions in both cities," MLB said in a statement.
Air quality alerts had been issued in both cities by the National Weather Service.
In 2020, the Seattle Mariners postponed a game because of similar conditions and moved another two-game series against the Giants to San Francisco.
In addition to the MLB postponements, the WNBA postponed a game between the Minnesota Lynx and host New York Liberty, while the NWSL halted a game between Orlando and Gotham at Harrison, N.J.
–Field Level Media